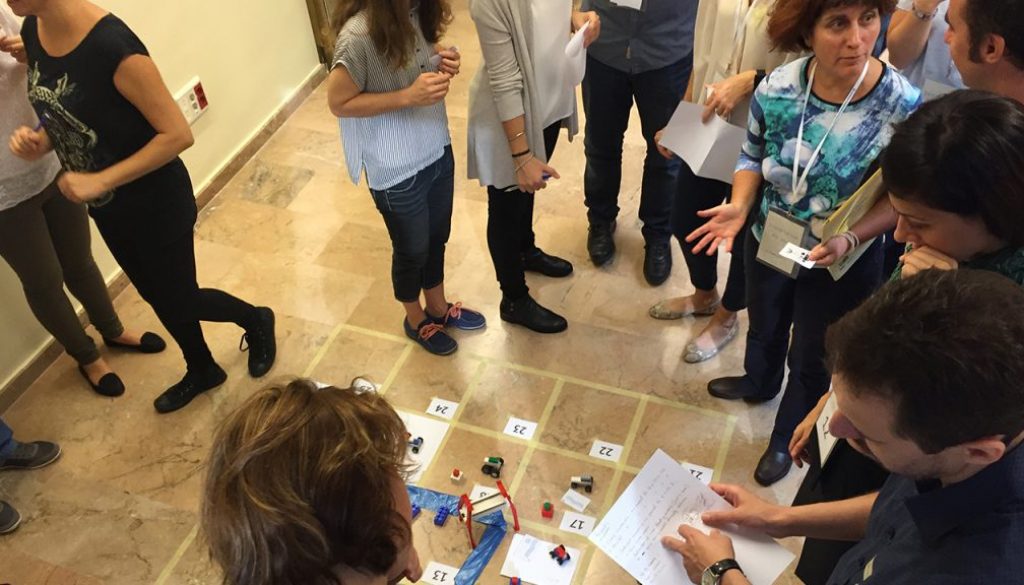 An example of an intervention that employs a policy exercise is the simulation that was run during the EDUCEN project with local stakeholders in Lorca, Spain. The main objectives of that exercise include: exploring how cultural factors affect different phases of disaster risk management; demonstrating the benefits of ex ante disaster risk reduction and preparedness and motivating the players to put them into practice; improving understanding and communication of disaster risk in a cross-cultural environment; improving disaster-related communication flow among all relevant organizations and individuals, before and during an emergency situation; ability to deal with evacuation in an urban area inhabited by the multilingual and multicultural community.
The Lorca simulation was the basis for the Gifts of Culture game (also developed as part of the EDUCEN project) which provides empathy training for both disaster professionals and community members. The game is set in a culturally diversified environment. As a group, the players are able to experience both the obstacles and the possibilities arising from the situation and to do their best to increase overall community resilience. On the individual level, each role offers a first-hand experience of how various cultural factors influence the decision-making process. Some roles, e.g. the disabled or refugees, provide even more profound insight into real-life barriers since the experience is boosted by specific restrictions (isolation, inability to speak, etc.) This introduces an additional, emotional dimension to the game and (as the debriefing sessions prove) leads to increased understanding of the nuances of working in a culturally diverse environment.

Lorca Flood Preparedness Simulation was developed as a part of the EDUCEN project. The goal of the activity was to show the complexity connected with sharing of resources between organizations involved in flood protection, disseminating information, and engaging various groups of citizens in appropriate preparedness actions. The activity was streamlined with help of the experts in Murcia and used in Lorca where it was presented to real-life stakeholders involved in the simulated process.